Astrologer In Chennai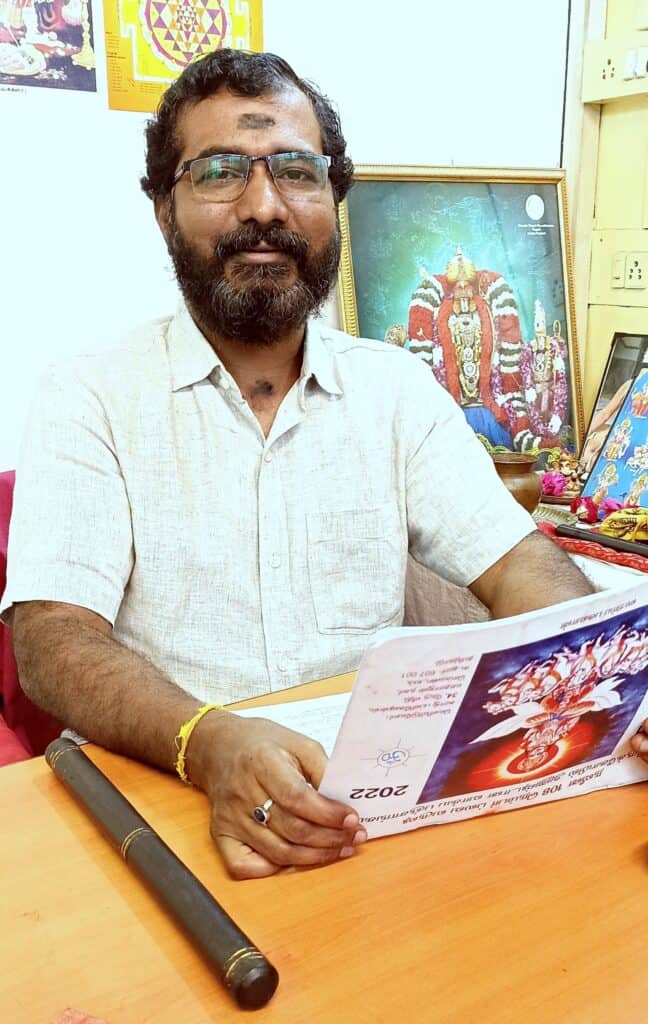 Bramhamuraari tripuraantakaari,
Bhaanu shashi bhumisuto budhashcha|
Gurushcha shukrah shani rahu ketav,
Kurvantu sarve mama suprabhatham||
With the divine blessings of our family deity Sri Lakshmi Narasimha swamy, I was born in Anantapur near Ahobila kshetram, Andhra Pradesh. From my childhood days, I was having good intuitional powers with which I was able to give suggestions on fixing muhurthas for auspicious occasions to my relatives and known people. I felt that my paternal grandmother passed me her blessings for my intuition capacity. She used to cure the diseases and problems in our neighborhood with her occult powers.
Astrology has always been my all time favourite subject. I am very thankful to my Guru for his valuable guidance. My devotion towards Goddess Mahakali (the consort of Lord Mahakaal) and Lord Vishnu helped me in developing astrological skills. I am totally surrendered to Lord Vishnu and believe that the supreme lord will guide me in all my predictions.
Academics: Jyotish Visharad - With the aim of getting a formal educational certificate in Astrology, I completed the "Jyotish Visharad" course from the Indian Council of Astrological Services (ICAS). The Institution 'ICAS' was started by Late Shri. B.V. RAMAN, a renowned Astrologer.
MBA - Master of Business Administration from Sri Krishnadevaraya University (1994 -1996) Anantapur
Predictions: I give predictions to my clients based on their Birth Horoscope. Most of my clients are from various parts of the world and from various cultures. I give predictions based at Chennai and at Anantapur (Andhra Pradesh). My accuracy in predictions comes from many years of my Sadhana (Devotion & Practice) and with the divine grace of my Guru (God).
In my opinion, an astrologer is a Guide and a Life Coach. This is the reason for my site being named 'Astroguide'. Astrology can be used as a Guidance tool for our life. The below quote explains further as:
"There is no better boat than a horoscope to help a man cross over the sea of life" -- Varahamihira (Great Astrologer who lived in the court of King Vikramaditya)
There are a number of advantages in using Astrological guidance viz., it can be used to know our best opportune times and challenging times, so that you can take new risks at your favourable periods and should be careful at your challenging periods, Business or Job suitability, Love Life, Marriage, Marriage Matching, Progeny, etc.
I request my readers to utilize this divine science in a proper way for the benefit of their happy living.
The purpose of my site is to bring the important principles of Astrology to the general public and students, hence I will not entertain discussing personal horoscopes in this forum.
Thanks to all
Your Astro Guide
Suresh Kumar
Astrologer, Numerologist & Vaastu Consultant.
Acknowledgments
The site content is based on my research and learning from my Guru and based on Astrology Classics, Books written by Dr. B.V.Raman and other Eminent Authors.
Some of the Books referred are - Brihat Parasara Hora Sastra, Phala deepika, Uttara Kaalamritam, Sarvaartha Chintamani, Bhavartha Ratnakara, R.G. Rao's Nadi Techniques, etc.
The credit of this knowledge goes to my Guru (master).